FAB23 Bhutan — A Success by Any Measure
Published on September 5th, 2023
FAB23 Bhutan now occupies its proper place in recorded history—July 16-28, 2023. And it absolutely was a history-making occasion!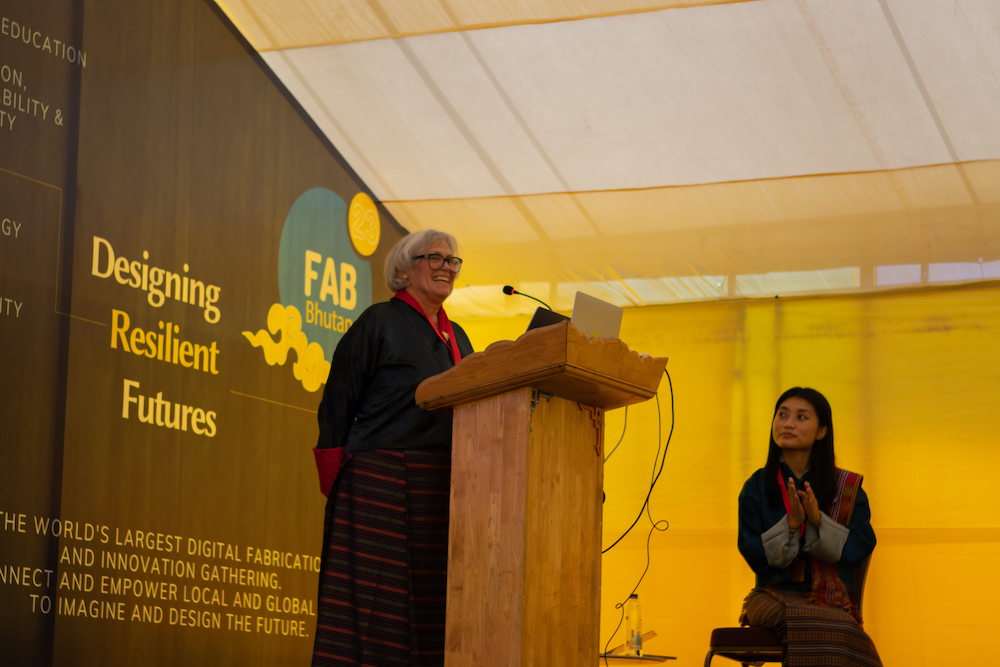 [Sherry Lassiter, President and CEO of The Fab Foundation—on stage with Namgyal Gyaltshen, Analyst with the JNW Super Fab Lab & the Strategic Technology Planning division at Druk Holding and Investments—welcomes guests to FAB23 Bhutan.]
After an intense first week of activity spread across the Kingdom—during which five international and five Bhutanese Fab Lab teams participated in the Fab Bhutan Challenge to propose meaningful interventions that enrich, scale, and invest in Bhutan's resilient economy—a​​ truly international crowd, representing 47 different countries, gathered in the nation's capital for a crystal clear demonstration of the global Fab Lab network's commitment to empowering change agents at the local level.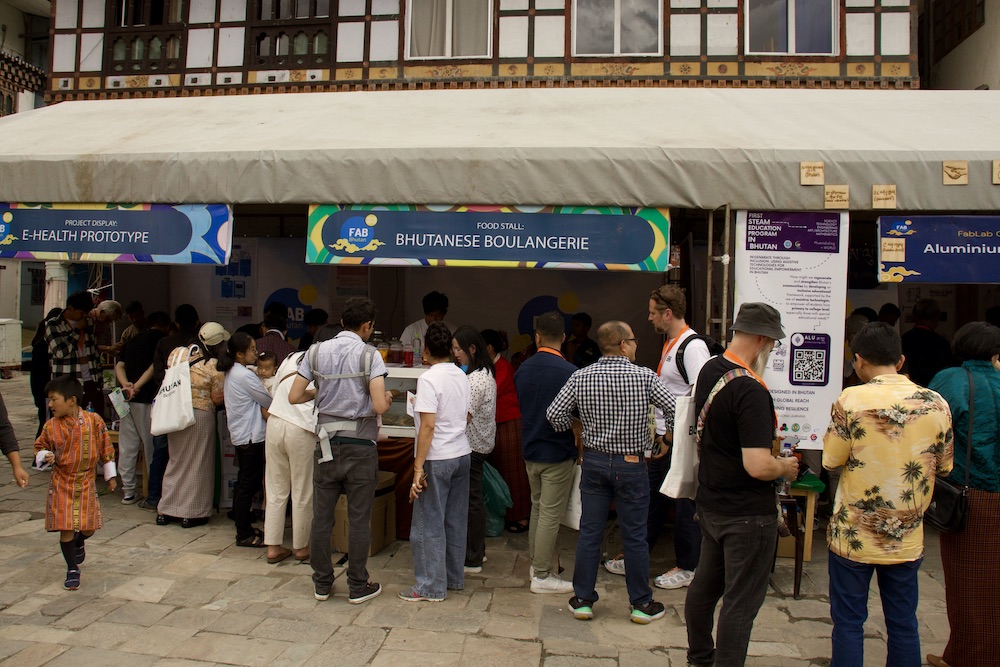 [A crowd gathers for Fab Festival at Clocktower Plaza in Thimphu, featuring local cuisine, cultural performances, Challenge showcases, and engaging workshops.]
With more than 1,200 participants in attendance, we kicked off Fab Festival at Clocktower Plaza in Thimphu on Sunday morning, July 23. It was a beautiful day, and the air was filled with a palpable sense of enthusiasm as locals mingled with Fabbers from across Bhutan and around the world to take in cultural performances, innovative workshops, and an impressive showcase of student challenges. The day ended with a capacity crowd in the conference room of the Capital Hotel for our first presentation of research papers on the Fab Lab movement and its potential applications in the context of Bhutan: Ecological Transition, Sustainable Transformation, Inclusive Education, and Lifelong Learning.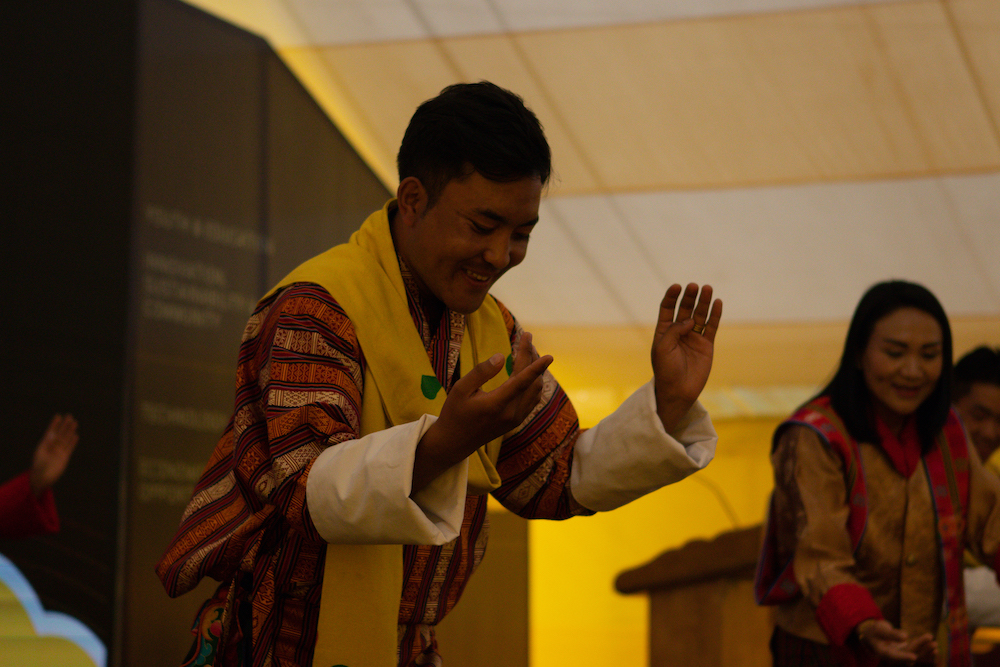 [Dancers from the Royal Academy of Performing Arts perform a Joenpa Lekso.]
Monday morning, over 600 participants—local and international, young and old, expert and novice—convened at Jigme Namgyel Wangchuck Super Fab Lab for the first day of our Conference and Symposium. We began with an inspiring welcome ceremony, including an opening prayer and a brilliant Joenpa Lekso (a dance to welcome guests, bring luck, and signal the start of a great event) performed by the Royal Academy of Performing Arts. More than 80 distinguished guests were present, and a passionate slate of speakers delivered a consistent message of optimism and commitment to Designing Resilient Futures. We heard from the Honorable Foreign Minister of Bhutan, His Excellency Lyonpo (Dr.) Tandi Dorji, whose honest assessment of both the opportunities and challenges that his nation faces punctuated precisely why Bhutan believes so fervently in its capacity to build a bright future for its citizens.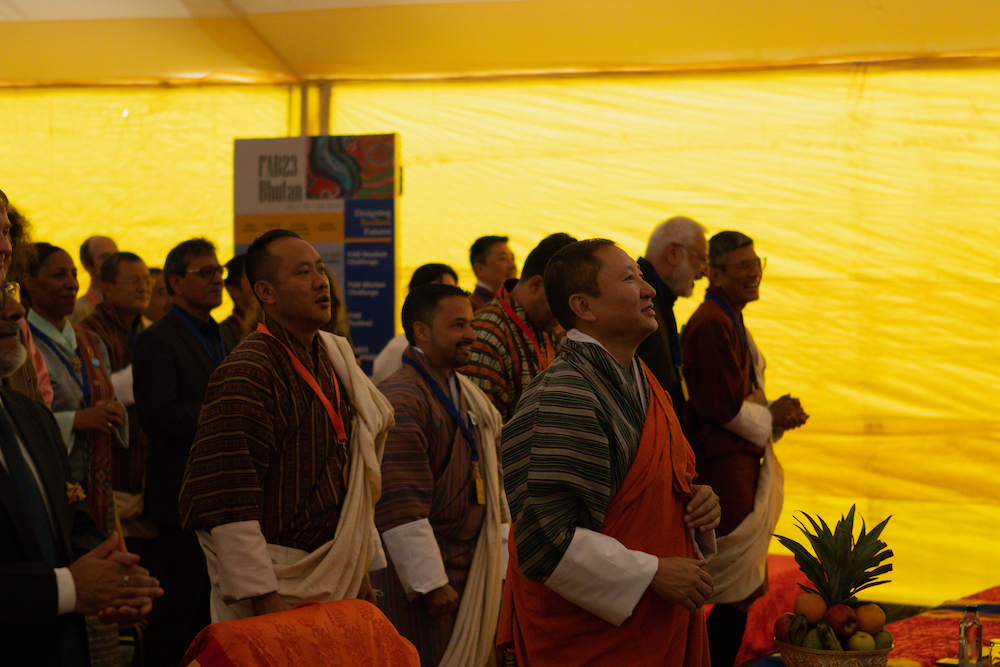 [Distinguished guests enjoy the opening ceremony at FAB23.]
A question on many minds Monday was whether those challenges can be effectively addressed with technology. In our Technology (R&D) Symposium, we saw an extension of the core research that originally inspired Fab Labs, which powers their ability to make impact. Presenters explored the many ways in which technology might help us grow, cure, assemble, or add AI to (almost) anything—and what sort of real-world problems this could help us solve. Workshops and panels throughout the day provided some compelling use cases: AI sensors used for food supply chain sustainability and climate change mitigation, self-replicating assembly robots to scale physical production, and a proposal to help Bhutan develop a robust metaverse ecosystem to facilitate global connectedness—just to name a few. The day's research paper presentations delved into Entrepreneurship and Open, Diverse Cultures. We also took a deep dive into technology's impact on education and discovered how teachers around the world are harnessing tools like generative AI to develop agility and versatility in learners.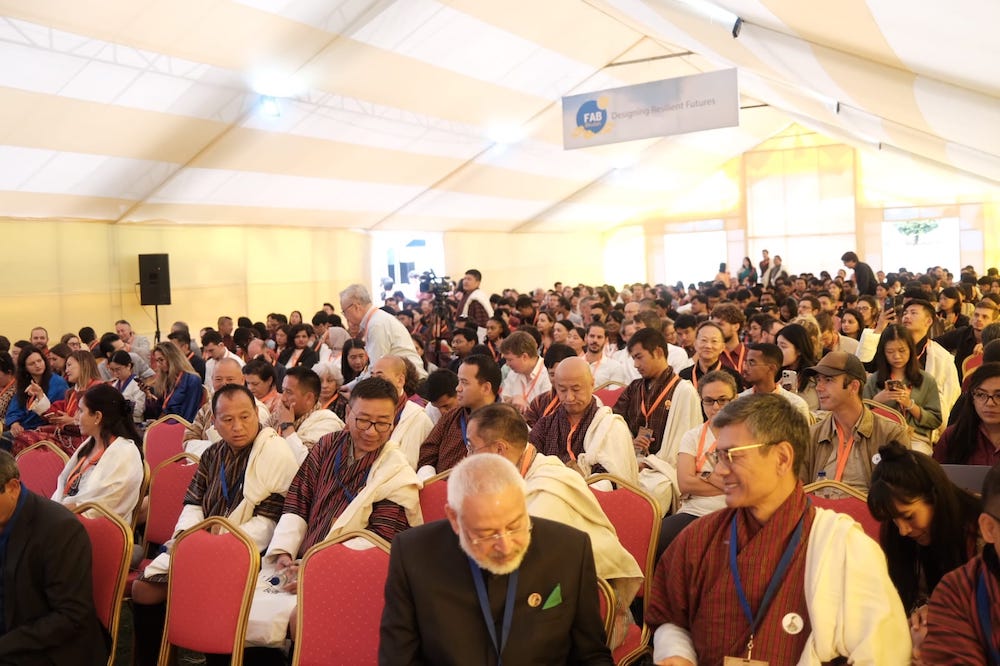 [A capacity crowd fills the Dragon Auditorium for opening day at FAB23.]
We were thrilled to see such a turnout of enthusiastic participants for our opening day, making it an exceptionally special occasion. But, as Professor Neil Gershenfeld reminded us all during the welcome ceremony, "The goal isn't the event, it's the legacy." Appropriately, we closed out the evening with our Academany graduation, celebrating the stellar accomplishments of hundreds of students from Fab Academy, Fabricademy, Fab All-In, MDDI, and Fab Learning Academy. Having just finished their rigorous coursework, these graduates must now carry the legacy forward.

[Academany graduates, with diplomas in hand, celebrate a major milestone.]
Tuesday, we shifted our focus to Youth and Education, with presentations, workshops, and a Symposium that emphasized the long overdue need for systems change—pushing for universal access to technical education, digital literacy, and STEM opportunities for all learners—regardless of location—along with improved professional development (as well as compensation) for educators. Recognizing that many children are now learning a majority of job-related skills outside of school, speakers wondered aloud: How can we ensure that all children will be able to fully participate in the technical society of tomorrow? Some went so far as to ask whether we should be lobbying for digital fabrication to become a mandatory component of K-12 education.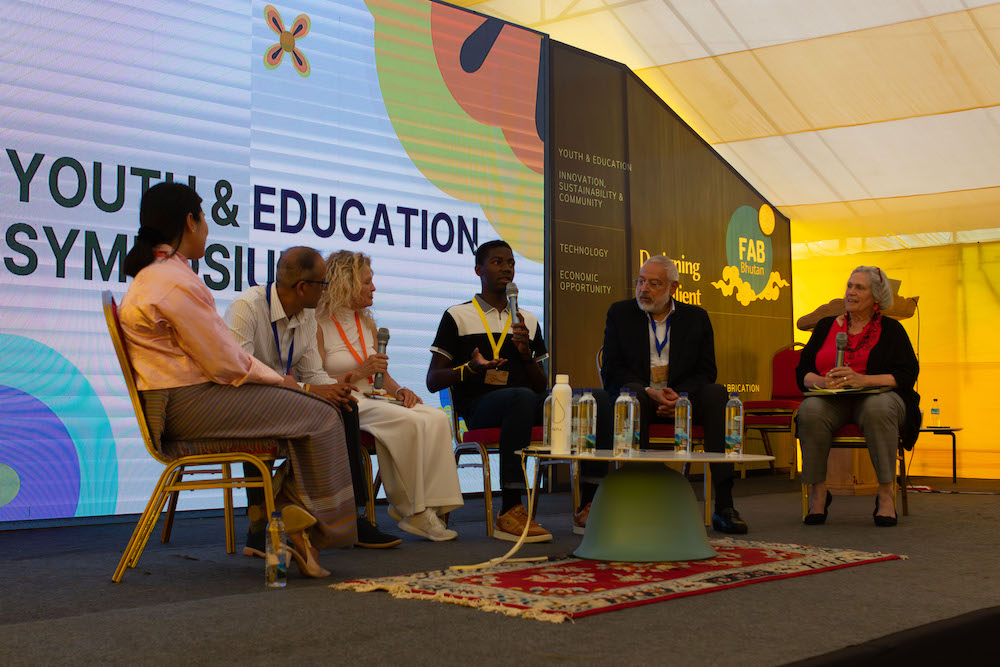 [Keynote Speakers at the Youth & Education Symposium advocate for systems change.]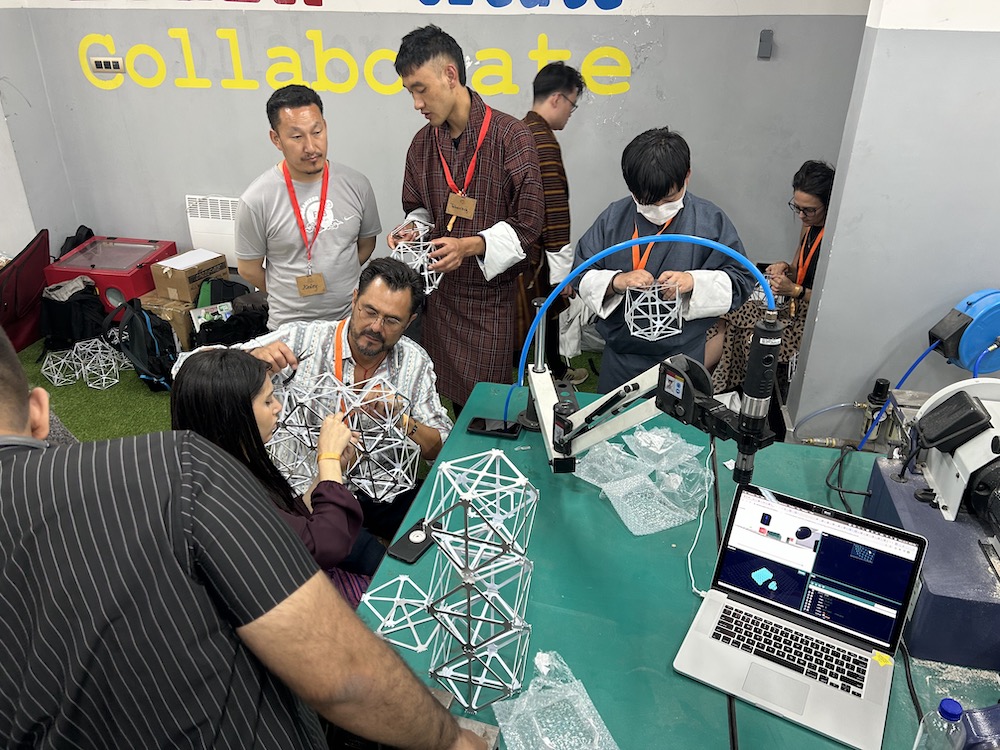 [Participants explore digital fabrication processes for making physical voxels during a hands-on technical workshop.]
By the time we began Wednesday's Symposium on Innovation, Sustainability & Community, it had become all too apparent that many of the challenges that the Bhutanese people face in their daily lives are of a universal nature, affecting populations across the globe in much the same way. A genuine spirit of solidarity was on display as participants rallied for inclusive and participatory design processes, community engagement and co-creation; democratization of technology with an eye toward establishing self-sufficiency, and responsible adoption of tech tools, especially in regard to sustainability.
And the conversations weren't limited exclusively to human-centric concerns. Much was made of the need to innovate new solutions to interspecies conflict, allowing human societies to thrive in cooperation with—rather than at the expense of—the myriad other biological lifeforms that share our planet.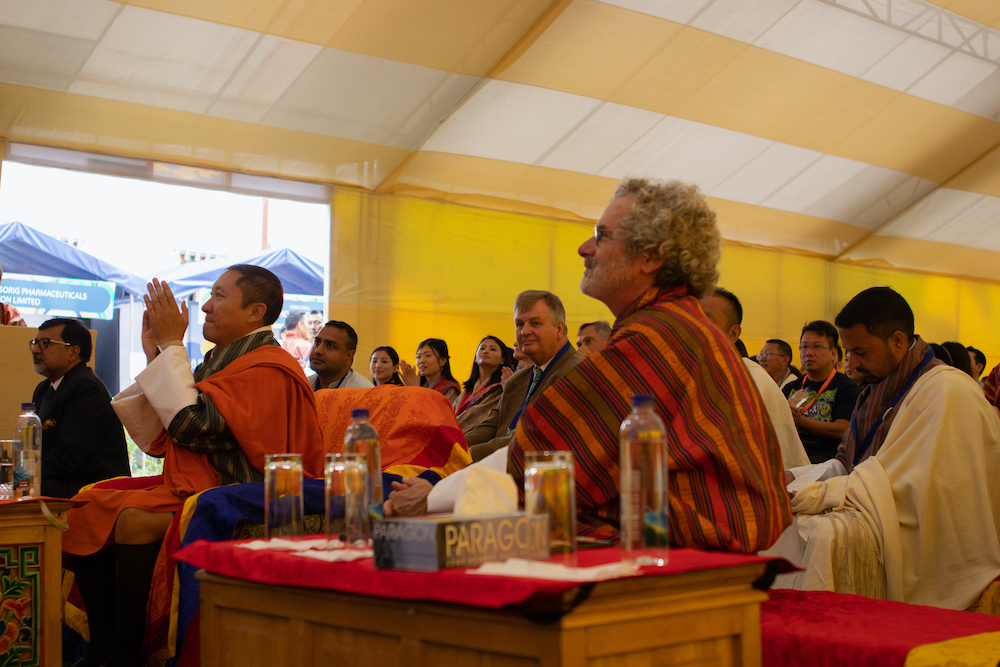 [The room is filled with anticipation as speakers await their turn on the main stage.]
Alas, such lofty discussions inevitably come back to the question of money. How do we fund all of these wonderful ideas to ensure that real problems affecting real people are addressed with real solutions? Thursday's Symposium on Economic Opportunity attempted to answer that question. The need for smart capital through multi-channel financing platforms was raised, along with a demand for strategic communication to articulate the value of the Fab Lab movement to a broader community, as well as a call for progressive industry to take the lead in informing government regulation for sustainable development. Youth engagement, education, job-skills creation, and the innovation ecosystem—otherwise known as the talent pipeline—were shown to be inextricably linked to a nation's economic survival. And the currency of ideas was placed on a par with money itself.
Panelists also grappled with the question of how to pursue economic opportunities without sacrificing societal wellbeing. Fortunately, the two were not deemed mutually exclusive. And a clever tie-in was made between the UN's Sustainable Development Goals and the articulation of Bhutan's Gross National Happiness index.
[Keynote Speakers call for creative new funding solutions during the Economic Opportunity Symposium.]
On Friday, we turned the program over to our colleagues at the Fab City Global Initiative for the Fab City Summit. Talks highlighted the legal and practical aspects of a Fab City, the importance of circular economies, the need to break outmoded paradigms to design resilient futures, the promotion of digital fabrication around the world, and the guiding principles that inform the building and connecting of digital platforms across the network.
[Team Alu celebrates their people's choice award in the Fab Bhutan Challenge.]
Fittingly, the week closed with an awards ceremony, recognizing the months of dedicated effort that each team put into the Fab Bhutan Challenge and the brilliant solutions resulting from these collaborations. The winner by people's choice was Team Alu, whose 'Aluminum Waste, Gracefully Braced' project focused on using digital fabrication to upcycle waste material for the development of assistive devices for Bhutanese students with special needs. The expert's choice was the Future Fabrics team with 'Weaving Technology into Tradition'—a reimagining of traditional textile processes through digital and bio fabrication.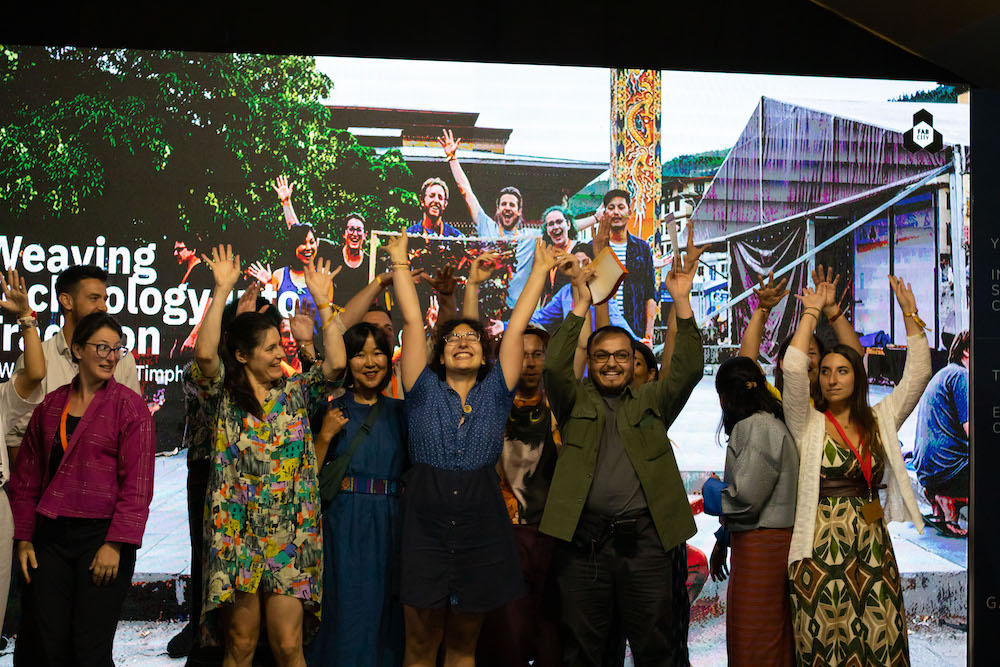 [The Future Fabrics team celebrates their expert's choice award in the Fab Bhutan Challenge.]
Overall, the five participating teams built more than 15 prototypes, collectively estimated to generate between $2-8 per dollar spent over the next 10 years. Organized and curated by the Fab City team, the Challenge was a terrific, engaging addition to the conference proceedings, bringing together 40 international innovators from 22 countries, as well as 19 innovators from within Bhutan. And more than 300 young participants were involved in the Bhutan Student Challenge.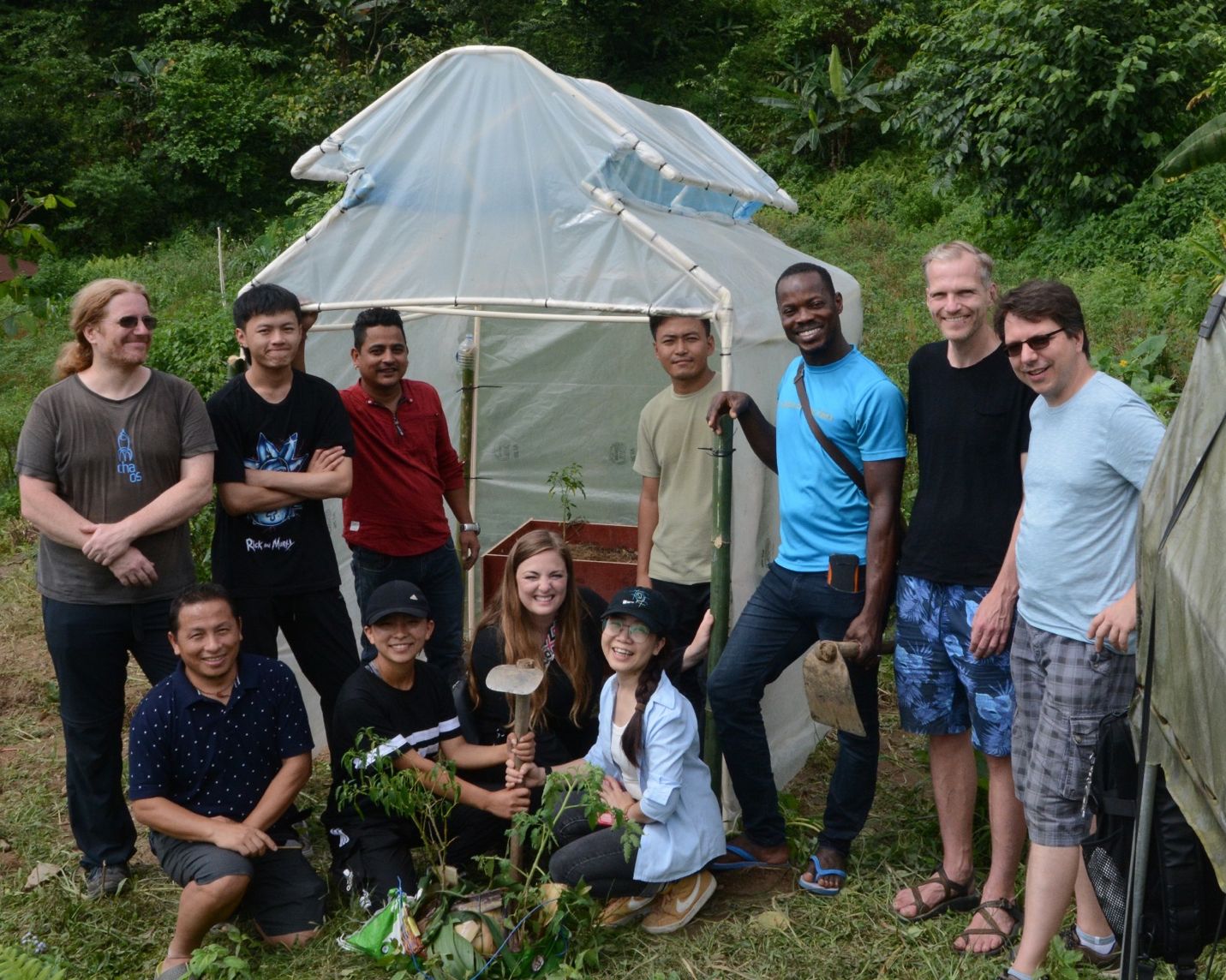 [Team Sub-Tropical Monsoon VS Sprouts, on the scene in Gelephu, works to ensure food security across the Kingdom as part of the Fab Bhutan Challenge.]
Reflecting on the unbelievable list of accomplishments checked off over the course of this event, we are humbled to be in the presence of such a thoughtful, passionate, intelligent, productive, and creative community. We're filled with gratitude for the contributions that every single person has made to the network's collective success, and we're inspired to keep pushing for even greater achievements in the days ahead. We now pass the torch from Bhutan to Mexico and invite every citizen of the world to join us next year for FAB24 in Puebla, where we'll be Fabricating Equity & Redefining Knowledge.
Until then, highlights of FAB23 Bhutan are available in our YouTube archive for everyone's viewing pleasure. Enjoy!